Semitour Périgord,
an expertise and a team of professionals at your service
Schools & leisure centres
Are you a teacher or the director of a leisure or holiday centre? Semitour Périgord is entrusted by the Conseil Départemental de la Dordogne with the management of the départment's major monuments and cultural sites, as well as numerous accommodation and leisure bases. Semitour is the Dordogne's largest tourism company and has a specific policy of encouraging school children to discover its sites. To correspond with teachers' demands, cultural events are conceived in conjunction with the school program. Such events are animated by facilitators and sites are approached in a fun, educational and multi-disciplinary manner. They are designed for children aged five upwards. The cultural events organised on Semitour's different sites are intended to promote and transmit our wealth of local heritage to future generations.
The educational facilitators take the need to make this heritage come alive very seriously. Showing children cultural sites in a different light helps a young public to learn about the region's history and increase its understanding of the importance of its heritage.
Contact us
Groups & clubs
Are you a tourism professional? (Coach company, tour operator, travel agency etc.) or a group events organiser (committee member, educational manager, president of a club or association, business director, or simply the one who organises the group of mates...).
Would you like to organise a holiday or an excursion to the Dordogne?
Our team is available to help with the organisation of your trip and advise on matters of local interest. We are delighted to be able to offer personalised short break or day events with themes ranging from prehistory, local heritage or discovering the Dordogne Valley – the Cradle of Mankind - to outdoor sports (treetop adventure parks, cable-skiing, climbing, paddle-boarding etc.) We will be happy to make you an offer personally adapted to your group's requirements, based on what you want from your trip to the Dordogne.
Please feel free to contact us so that we can establish your dream trip together. Just ask for a personalised quote!
Our terms of sales (In french)
Contact us
Incentive & team building
Adding an exceptional and original dimension to your professional events! Sémitour Périgord proposes exceptional venues in the Dordogne for professional events and assists with their organisation.
We work together on a project based on your aims, wishes and needs, choosing a formula best suited to your budget and the type of event. Historical, original, innovative venues can be hired for the organisation of evening events for your clients or alternatively, seminars lasting several days will give your clients ample time to fully enjoy and explore the region.
Contact us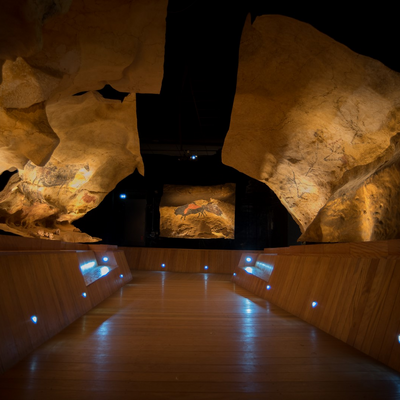 Hiring Venues
Why not organise an event at Lascaux International Centre of Parietal Art?
A number of spaces can be privatised: a sitting room, reception rooms or meeting rooms for daytime conferences or the cinema for exceptional evening... we can adapt to all your projects.
We also offer "turnkey" events.
Our facilitators are available for private, personalised visits, in particular:
- The privatisation of the whole of Lascaux for large scale events!
- The complete privatisation of Lascaux II Cave for an intimate event.
As well as our conference spaces, we offer:
- Guided visits of our sites drawing on the expertise of our facilitators.
- Team-building with paper-chases, treasure hunts or interactive workshops adapted to the size of your group and your timetable (cave painting, tastings, cookery, "make your own film", "Escape&You", Cluedo, Olympic Games…)
- Organisation of events during a meal or cocktail
Contact us